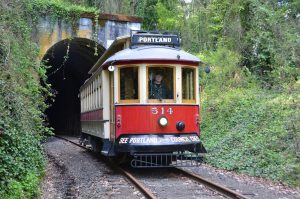 The Willamette Shore Trolley will be rolling down the tracks again starting May 28th.
This historic trolley is operated by the Oregon Electric Railway HIstorical Society. It's a charming experience due to the charm of the trolley the wonderful sights to be seen along the way.
The route is 10.5 miles, round trip. It starts at the trolley station, 311 N State Street and runs to Bancroft Street near the South Waterfront in SW Portland. It includes two trestles, one of which is the 686 foot Riverwood Trestle, and the 1,396 foot Elk Rock Tunnel. The tunnel makes a gentle "S" curve that creates total darkness in the middle of the tunnel. Don't worry, the trolley is lit up and it's just really fun.
Scheduling and Ticket information can be found by clicking here.
The trolley runs Fridays, Saturdays, and Sundays until September 4th. Parking is free.
Years ago I took my Mom for a ride on the Trolley for her birthday. We packed a picnic and enjoyed lunch as we road the route. I'm not sure that they any longer allow food, so call ahead and find out before you try this. My point is this, memories are made on the trolley and it is so much fun to enjoy.