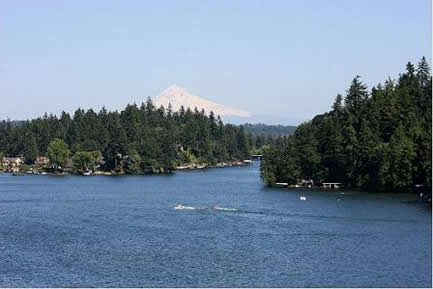 Greetings to all of our loyal and new Property Blotter readers!
As we enter our 5th year of publishing this insiders' look at the Lake Oswego community and Real Estate scenes, we want to take a moment to thank you so much for your interest and patronage through the years! Dianne and I are as committed as ever to bringing you the micro-focused real estate information you count on, and also the perspective of Lake Oswego as part of the larger Portland Metro Area from time to time. Context is good… at least we think so : )
We both specialize in Lake Oswego property, considering the time we've spent living and working here, and we both also have been working all over the Greater Portland Area for many, many years, so please remember us if you know someone who needs a really experienced and reliable Realtor for any property "selling or buying adventure" in this larger geographic area!
Though our lives have changed through the years, the Property Blotter has remained constant, and we hope that you enjoy it as much as we do. Recently we have made one BIG change, and that is that we are now working with Oregon First Real Estate Company!  A change like this is the kind of thing that only occurs once in a very great while, and while we have been very pleased with our previous affiliation and will miss those with whom we've worked closely for some time, we are thrilled to be joining this vibrant, established local company with offices all over the Portland area and Vancouver!
Just for fun, I've pasted below our very first post from 2008, and after reading it, am feeling both nostalgic, and satisfied with the work we've committed ourselves to, and all we've accomplished with so many of you.
Happy New Year to each of you…. We toast YOU in 2013!
Welcome to the premier edition of the Property Blotter!

This blog is intended to be a fun and useful forum pertaining to real estate issues in the City of Lake Oswego. It will bring you information that directly reflects current market conditions.

It will also provide you with history of the area and insights into Lake Oswego's vibrant community. You will find plenty of statistics and details about houses currently for sale and recently sold. You will also find neighborhood profiles and featured homes. And, yes, you'll get commentary on local events and neighborhood happenings.

What you will not find is endless self-promotion and unneeded advertising. This is going to be a place to learn about Lake Oswego real estate and not a place that will waste your time. We don't care for that sort of thing any more than you do.

And just who are we and why do we have any right to be doing this? We are Realtors who have each lived in Lake Oswego for some time and have been directly a part of this community. Between us we have 30 years of experience selling real estate in this fine community. Between us we have lived in Lake Oswego for 20 years. Our children have attended school here. We participated in sports here. We volunteered with local non-profits here. We know this town.

Lake Oswego is an amazing place to live. It is also seriously misunderstood. Yes, there are million-dollar homes in Lake Oswego. But more than money, Lake Oswego is a town that has people who care. It has always had great schools and so attracts families looking for excellent public schools. There are modest homes as well as lakeside estates.

If we are doing our job right, you'll come away from this blog feeling like you know a bit more about what prices of homes are like, what is going on with local businesses, and what it is about LO that makes it a great place to live and to work. If you currently live here, you'll know more about what your home may be worth. If you are thinking about moving here, you'll know more about what to expect when you buy a home and what this community is like as a place to live.

So come along with us on this "blog-mobile". It is going to be a great journey.