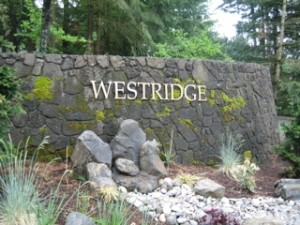 It's time to showcase another of Lake Oswego's wonderful neighborhoods, Westridge. Westridge is not very large.  According to city-data.com, it is  just .238 of a square mile. It is bordered on the West by Bryant Rd, on the North by Royce Way, on the East by Cooks Butte Park, and on the South by Childs Rd. The population of the neighborhood is about 650 people, which translates to about 300 houses. It's been my experience that people who live in Westridge love it. They will often move within the neighborhood rather than move out of it. So what's the attraction?
First, it's a very quiet area. There are no through streets that people use to get from one part of town to another. There are only neighborhood streets. So the only cars driving into the area are those of people who live there or their guests.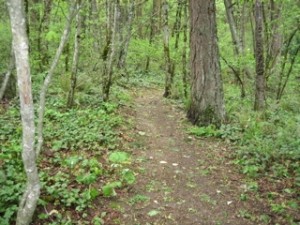 Second, it has two terrific parks. Cooks Butte Park is on the Eastern edge of Westridge. It's 42 acres of natural area. It's what is called a passive park. In other words, it is left quite natural with soft-surface trails for hiking, but not a lot of development such as picnic structures or play grounds. It is best enjoyed for the trees, the trails, and the views. The top of the park has an elevation of 718′. It's a wonderful spot to hike up to and then sit and watch the sunset. The other park is Westridge Park. It's adjacent to Westridge Elementary School. It's 2.2 acres and has a playground, a volleyball area, and a soccer/little league field. This is where you take the kids to burn off some energy and to enjoy a fine, sunny afternoon.
Last is the reputation of Westridge Elementary School. It is a very highly regarded school. While the schools in Lake Oswego all have good reputations, Westridge Elementary seems to stand out. It has a Distinguished Great Schools rating of 10 out of 10, according to the website greatschools.net.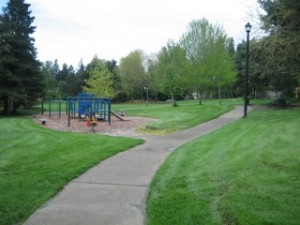 Housing in Westridge is all single family homes. There are no condominiums or apartment buildings. The pricing of what is currently for sale goes from a low of $498,500 for a 2670 square foot home with 4 bedrooms and 3 baths, to a high of $899,900 for a 3243 square foot home also with 4 bedrooms and 3 baths. I would say that the most basic criteria for the variation in pricing is whether the home has been updated or not. The neighborhood was mostly built in the 1970's and 1980's. So if the house still has original kitchen, baths, woodwork and windows, it is just not going to be worth as much as a house that is
all updated. I also know that there are homes in Westridge that easily exceed $1,000,000. It is just that none of the higher-end homes are currently for sale. The homes that are the most expensive often are on extremely large lots. On the South edge of Westridge are Barton and Hilltop roads. These streets have houses on acreage, and those properties more closely resemble estates.
I want to point out a house that Linda and I visited on Broker's tour on May 5th, 9 Westminster Dr. This home is an excellent example of great value. Built in 1976, it has been extensively updated. The kitchen and baths are all recent. There is new paint and flooring. The house has 3814 square feet, with 4 bedrooms and 2 1/2 baths. Probably the most distinguishing feature is a wonderful sunroom that allows you to sit and enjoy the garden all year round. The landscaping is exceptional. There is extensive brick work in patios and outdoor entertaining areas. The yard has sprinklers and it looks to me as though a professional was involved in the layout. It is really wonderful. Priced at just $597,000 it is a stand out for value. I tell people that in this market it is both a beauty pageant and a price war. I think this house wins in both categories.
So it's easy to see the attraction of the Westridge area. If you'd like information on homes currently for sale in Westridge, please contact either Linda or myself, and we would be happy to send you more information.