As many of you know, Dianne and I tour Lake Oswego every Tuesday. We use this scheduled time to view properties that are new on the market, and also to take a look at some we may have missed along the way. Our aim is to be inside every property we possibly can in our community in order to better serve our clients and readers.
Yesterday I meant to take you along with us as we toured, but forgot my camera (darn it!). I did, however, decide to pass along a few properties that we both believe are worth noting. So, here we go:
(All square footage and house info used is from listing agents' data in RMLS so, deemed reliable, but not guaranteed by the Property Blotter.)
3190 Duncan Drive – This property is 2401 SF, 3 bedrooms, 2 1/2 baths, built in 1986, and is bank-owned. It is at the bottom end of a long, steep, private drive shared by a couple of properties, and sits on a hill/perched above Boones Ferry Rd., which you can hear when outside, but not really see too well through the beautiful, natural greenery surrounding the home. Practically speaking, you enter from the driveway side into the kitchen
area. Double attached garage, deck, large laundry room… generous living room w/fireplace opening to a dining room… flows nicely. Nice master on the main with walk-in closet and jetted tub. Large bath and bedrooms upstairs… You'd want to do some updating, especially in the kitchen and with flooring/new carpeting, but this just seems like a great opportunity in Lake Oswego for someone at $259,900!
4411 Lakeview Blvd.– This home is a split level (sometimes I confess not to like them personally), but this one is a nice layout with a very open entry where you feel like you're in the living room as you are entering/not in a little hallway as some tend to feel. It is 1828 SF, 4 bedrooms, 2 baths, built in 1972 and remodeled. It has seasonal lake views, and is basically across the street from the
water. It is close to the intersection of Bryant and Lakeview, and so is close to schools, shops etc etc etc. It is just a really nice house with a great flow, and tasteful updates. Enter the back from a sitting room off the kitchen with beautiful picture window. The backyard is large & very relaxing.You'll hear the train when it passes (I happen to LOVE the sound), but you'll be in good company! …other homes on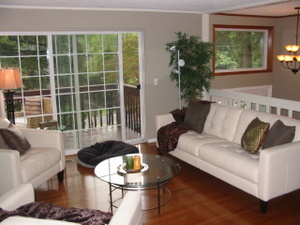 Lakeview currently for sale range from $425,000 to $7,500,000. The listing agent states: "Sellers will entertain offers between $299,000 and $338,876." This home is also listed as a "possible short sale w/one lender". I am told that the Broker's Price Opinion (BPO) has already been finished, and the listing agent's experience is that the Rep is very responsive. Seems like a great deal to me, especially at the bottom end of the range that is specified!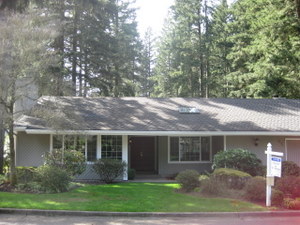 18791 Indian Creek Way – This property is 1965 SF, 3 bedrooms, 2 baths, built in 1977 and remodeled. When we say remodeled, this one is really gorgeous. Dianne and I both looked at each other and said "This is nicely done." The living room and fireplace are inviting, the feel is open and airy, there are stainless gas appliances, a wine fridge, 2 gas fireplaces, hardwoods, vinyl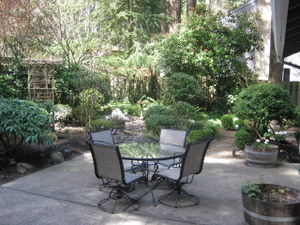 windows… lots of them, skylights, and a beautiful backyard patio surrounded by English Gardens (it was evidently featured in Sunset magazine) great for entertaining. The home is advertised as having Bryant Woods pool membership, and proximity to the grade school and middle school is excellent. The price on this one is $439,900. Compare what's out there… this one is special.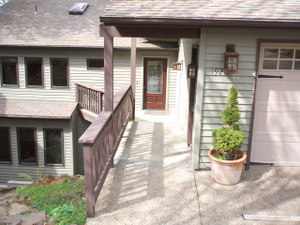 1921 Park Forest Ct– This home is 2531 SF, 3 bedrooms, 2 1/2 baths, built in 1975 & remodeled. The owners have relocated, and I have to say that both Dianne and I were very impressed with this one. The owners took great care in special details, and this home includes high-end features like a gourmet kitchen with beautiful slab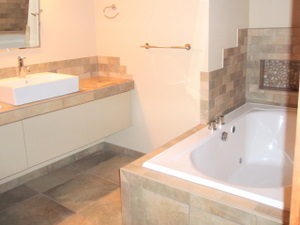 quartz countertops, a spa w/fireplace, walk-in stone & tile steam shower, air jet tub & heated floors. The plank wood floors are a favorite of mine. The windows in the living room are large and feature beautiful tree'd views, the baseboard detail is stonework throughout the home, and there is a hot tub outside which is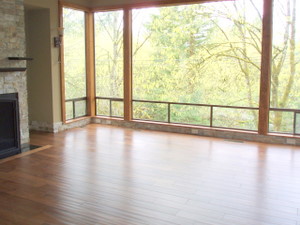 included "as is". This one is situated above SouthShore Rd in back. Greentree Pool and Lake Easement is advertised as available. The entry to this home is deceiving… Once you're in the door you feel like you're on vacation. There is a water feature to your left as you enter, and the beautiful quartz kitchen with spacious pantry to your right. Walk in and the fireplace and windows say "relax". The owners wanted that "spa feel" throughout. The asking price is $529,000.
17675 Cardinal Drive – This home on the Blue Heron Canal is 3458 SF, 3 bedrooms and 3 baths, built in 1966 and is advertised as a fixer. Dianne and I took a look at it yesterday, and were very impressed with the waterfront location. The living room is open and the window views are out onto the deck & water. The home needs
extensive cosmetic fixing such as wallpaper removal, flooring updates, kitchen updates, etc. We are not inspectors, but truly, the feel is of a solid home that has been well lived in with just not much attention to updating. At $599,000 on the canal, I'd say this one deserves some attention.
Hope this information is useful to you. As always, feel free to email or call for more info or some help in locating or viewing these properties. There are lots of great buys out there!
Very Best,
Linda