Here is your look at what's been happening in the overall Portland area including individual areas of the metro, and with Lake Oswego broken out below:
Overview/Fluctuations ~ Market Data January 2022: Looking at the first month of 2022 as compared to the same month last year, New Listings have decreased 10.5%, Pending Sales have decreased 8.4% and Closed Sales increased 0.3%. Supply is still the biggest issue affecting the local market and remains at historic lows with less than a few week's worth of inventory available.
The other factor is rates~ While they remain very low relatively speaking (for anyone who remembers how high they've been in the past) they're hovering around 3.875% right now and all predictions are for several increases this year. This factor would be spurring more Buying activity than we currently see but for the lack of inventory. That said, it remains a given that savvy Buyers ought to be taking advantage of these rates now, and, generally speaking, would-be Sellers would be well advised to List now rather than wait till later.
According to the RMLS Market Action Report for the Portland Metro Area- Jan 2022: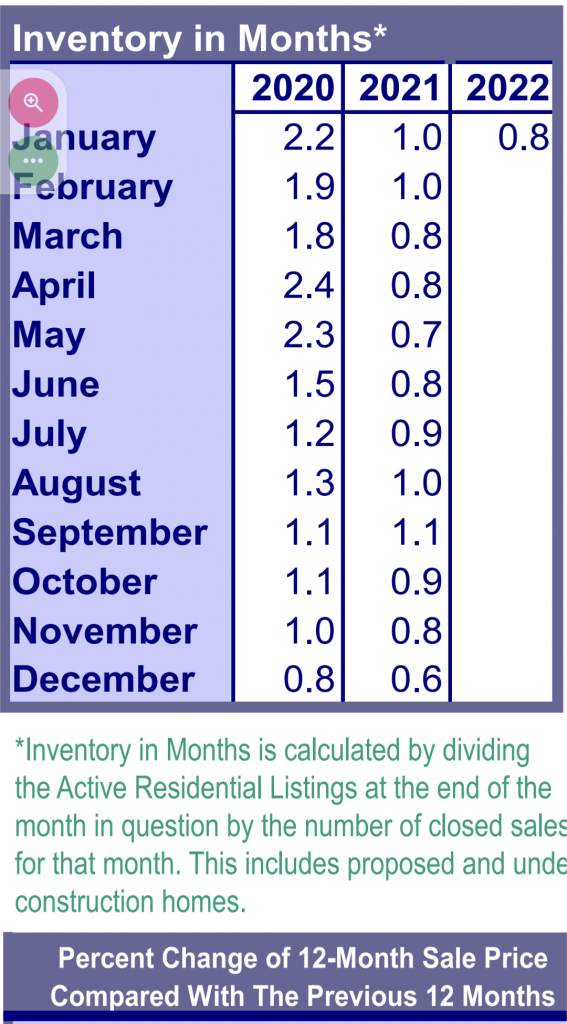 There were 2,307 New Listings in Jan 2022 decreased 10.5% from Jan of 2021's 2,579, and decreased a whopping 44.3% from the previous month/Dec's 1,599.
At 1,853 Jan 2022's Closed Sales are up 0.3% from Jan 2021's 1,847, and down 28.2% from the previous month/Dec 2021's total of 2,582
At 2,287 Jan 2022's Pending Sales are down 8.4% from Jan 2021's 2,496, and up 17.8% from the previous month/Dec 2021's total of 1,942.
The Average Sale Price in Dec 2021 of $586,600 is up $71,900 from last year/Jan 2021's $514,700, and up $3,700 from the previous month/Dec2021's $582,900. YTD increase is 15.8%.
The "Median" Sale Price (the price smack dab in the middle of all sales) in Jan 2022 of $512,000 rose from last year/Jan 2021's $460,000 by $52,000, and also $1,000 from the previous month
LAKE OSWEGO:
61 Active Listings (Dec 63)
83 New Listings (Dec 71)
78 Pending Sales (Dec 82)
82 Closed Sales (Dec 134)
Average Sale Price for Jan: $1,054,400 (Dec $1,024,400)
NOTE: Higher-Priced vs Lower-Priced Homes Sales can skew the "Average" in any given month. Lake Oswego has quite a variety, so this tends to be a less meaningful stat, generally speaking, in this niche.
29 Days on the Market (Nov 36)