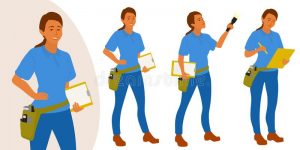 I always have a conversation with my clients before we begin their home-buying or -selling adventure regarding the basic markers, or hurdles we will clear as we move through the process. One of the most crucial is the Inspection Period.
After mutual acceptance, Buyer and Seller enter the Inspection Period. The Residential Sale Agreement specifies 10 business days unless the Buyer's Agent shortens or lengthens that when writing, but 10 days is pretty typical. During this time Buyers may hire professionals to perform inspections on the home and will specify any "invasive inspections" which can include sewer scopes, mold, underground tank locates, and believe it or not, the collection of radon gasses to gauge safety of the air in the home.
I find this is one of the most misunderstood portions of the process, and/but it is pretty straightforward. I'm including an excerpt from the Residential Sale Agreement language below as, with most things, an actual reading of the language in the contract clears things up pretty quickly when clarity is needed.
Your time clock starts ticking on the first day following mutual acceptance.  Sometimes when submitting an Offer as a Buyer, you might want to take into consideration that if your Offer is accepted on a weekend, your first business day will be a Monday, which will give you one weekend as part of your timeline.  If your Offer is accepted on a Monday or a Tuesday, your timeline will include two weekends, which can be beneficial if you need time to get additional contractors out to look at various things that come up in the inspection, such as roof issues, electrical issues, foundation issues and the like. The timeline is very important to both the Seller and the Buyer as, in the state of Oregon, a Seller is selling a home "as-is". This means that though there is a provision in the contract for inspection (and the contingency that a Buyer may decide to withdraw during the timeline based on dissatisfaction with the inspection(s), the Seller is not "obligated" to perform any repairs for the Buyer. Because of this, if a Buyer lets their allotted time lapse and you pass that 5PM deadline on the 10th business day without any written agreement on repairs, the home is then construed to be sold "as is".  Most Sellers and Buyers are reasonable during the allotted period and when issues of safety or impacted functionality of the home arise, accommodations of some sort are usually reached- not always to the extent a Buyer (or Seller) might like, but my experience is that there is usually goodwill and a real effort to deliver a home in good working order to the Buyer. Considerations that also come into play are Lender requirements, potential Appraiser concerns and the desire of both parties to Close the transaction and move on.
Here is the excerpt from the Sale Agreement that explains the basics:
177 LICENSED PROFESSIONAL INSPECTIONS: At Buyer's expense, Buyer may have the Property and all elements and systems thereof
178 inspected by one or more licensed professionals of Buyer's choice. Provided, however, Buyer must specifically identify in this Agreement any
179 desired invasive inspections that may include testing or removal of any portion of the Property including, for example, radon and mold. Identify
180 Invasive Inspections: .
181 Buyer understands Buyer is responsible for the restoration of the Property following any inspection(s)/test(s) performed by Buyer or on Buyer's
182 behalf. Buyer shall have business days (ten [10] if not filled in), after the date Buyer and Seller have signed and accepted this Agreement
183 (hereinafter "the Inspection Period"), in which to complete all inspections and negotiations with Seller regarding any matters disclosed in any
184 inspection report. Buyer shall not provide all or any portion of the inspection reports to Seller unless requested by Seller. However, at any time
185 during this transaction, or promptly following termination, upon request by Seller, Buyer shall promptly provide a copy of such reports or portions of
186 reports, as requested. During the Inspection Period, Seller shall not be required to modify any terms of this Agreement already reached with Buyer.
187 Unless a written agreement has already been reached with Seller regarding Buyer's requested repairs, at any time during the Inspection Period,
188 Buyer may notify Seller, in writing, of Buyer's unconditional disapproval of the Property based on any inspection report(s), in which case, all earnest
189 money deposits shall be promptly refunded, and this transaction shall be terminated. If Buyer fails to provide Seller with written unconditional
190 disapproval of any inspection report(s) by 5:00 P.M. of the final day of the Inspection Period, Buyer shall be deemed to have accepted the
191 condition of the Property. Note if, prior to expiration of the Inspection Period, written agreement is reached with Seller regarding Buyer's
192 requested repairs, the Inspection Period shall automatically terminate, unless the parties agree otherwise in writing.