2016 marks the 10th anniversary of the annual Lake Oswego Reads. It's pretty simple. The idea is that "the city that opens the same book closes it in greater harmony". I am a pretty avid reader and I think I have read the chosen book at least 8 years of the 10. Great thought is put into the selection as it needs to appeal to a broad population of young and old. It needs to be engaging, but also appropriate for schools. The committee that chooses the books have done a great job.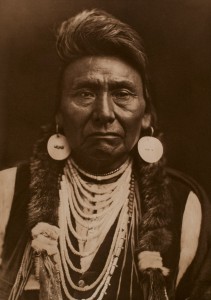 I am particularly excited about this year's selection as I have been a fan of Timothy Egan for some time. I really like good non-fiction. The first book I read of his was "The Big Burn" about Gifford Pinchot and the formation of the National Parks Service. From there I read "The Worst Hard Times" about the great depression and the dust bowl. Both of these books left me with better knowledge of important events, but also thoughts about how those times were truly dramatic (they made soup out of tumble weeks!). So I was excited that Timothy Egan is the author of this year's selection "Short Nights of the Shadow Catcher".
It's the true story of Edward Curtis, an uneducated man from Seattle with a burning talent for photography and the drive that became his life's mission, photographing the tribes of the American Indians before their lives were irrivocably changed by modern man. I am about 3/4 of the way through the book and it is a great read. I have so much more appreciation for Indians of the Willamette Valley and the Columbia River Gorge, but also for Indians in Arizona, New Mexico, California, Alaska, really our entire country.
The friends of the Lake Oswego Library are giving away free copies of the book on January 11th, this Monday, at 6:30pm, at the Lake Oswego Library (706 4th St). Then through out the months of January and February are a series of events that range from exhibits of Edward Curtis photography at the Library and LO Heritage House, to sampling of Native American foods, drum circles, and many other events. The highlight, in my opinion, will be the talk that Timothy Egan will be giving on the evening of February 10th at Lake Oswego High School. The event is free, but you do have to obtain your ticket in advance. They will be given out on January 23rd, 11:00-11:30, again at the Lake Oswego Library.
Lake Oswego Reads is one of many reasons I love this town!
Cheers to you and happy reading,
Dianne