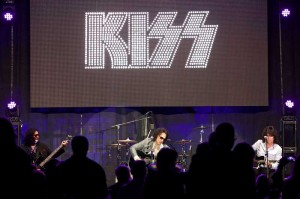 There hasn't been this much excitement over a celebrity sighting in LO since Bruce Springsteen married Julianne Phillips in a midnight wedding at Our Lady of the Lake Church.
On September 14th, Kiss played a charity concert at the home of Rick and Erika Miller on Jantzen Island. I first learned about it when a friend posted on facebook that they had stumbled upon the concert while out on their boat for an evening jaunt. Pretty cool to find a surprise concert.
It turns out that band member Tommy Thayer is the son of James Thayer, now 93, who was a part of George Patton's 3rd Army that liberated several Nazi death camps at the end of World War II. A military museum is now being build at Camp Withycombe in Clackamas. The new museum, now under construction, is going to be named after Tommy Thayer's father. It will be the Brig. Gen. James B Thayer Oregon Military Museum.
Honoring the U.S. Military is a passion of the band. There is even a possibility that Gene Simmons mother was in one of the camps that Tommy Thayer's Dad helped liberate.
The event raised $1.15 million for the construction of the museum.
What I like about this story is that Kiss came to town. I mean, come on, it's Kiss. The other thing I like is that it means LO is a small enough town that it's a big deal.
Dianne