The 2013 Street of Dreams is just outside of Lake Oswego off of Rosemont Road. It runs until August 25th from 10am to 9pm, daily. Admission is $15.
The last 5 years the Street of Dreams barely had a pulse. Builders simply did not have the resources to build spec houses (built without having obtained a buyer, so speculative) that were over-the-top expensive. In addition, the market for million dollar homes was soft. This created a down-sized Street of Dreams experience with fewer homes and less expensive homes.
Well, the real estate market is back, big time. Evidence of this is the fact that this year's Street of Dreams has 9 houses, all around $2,000,000, and 7 of the 9 houses have already sold. Demand is obviously high for luxury, high-end homes. This is your chance to see these amazing houses, get your own ideas, and see what $2,000,000 will buy.
Tried and True

Luxury homes do have an effect on standard housing. By standard, I mean homes in price ranges that more of the population can afford. Standard homes may be smaller, but they still have some of the features that are first seen at the show-case home tours. Several trends remain strong:
*Great room floor plans that allow big, open spaces for living and entertaining
*Luxury baths and kitchens with top-of-the-line granite, tile, and stainless steel
*Backyard entertaining areas, often covered, to allow interior and exterior spaces to blend
*Heavy use of stone, slate, granite, and natural materials
New Trends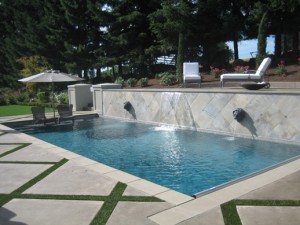 Being homes at the high-end of values, I expect there to be some interesting trends. Here are just a few:
*Wet bars are everywhere. One house had 4 wetbars, in addition to the main kitchen. The difference between a wetbar and a kitchen is that the wetbar has some components of a kitchen, but not all. So it likely has a refrigerator and a sink, but not a cooktop or range. House #1 on the tour has 4 wetbars: dining room, great room, back yard and the master bedroom.
*Kitchens and baths are back to black, white, and shades of gray. No earth toned colors in any granite in any house on the tour. Many cabinets are white or painted gray rather than natural wood that has been so popular for the last 10 years.
*Walls of windows that can be opened or folded back to really expose the interior of the house to the back yard
* Swimming pools. Two of the houses had just spectacular back yards with swimming pools.
* Secret rooms. One house has a pantry that looks like kitchen cabinets. You don't know it's a door until you push it open. Another house has a secret passage (disguised as built-in shelves) that leads to a staircase to a 2nd-floor retreat.
* Second refrigerators in the pantry. Such a good idea.
* Craft areas in the laundry room and even on their own. House #5 had two entries from the garage. One came through a HUGE laundry room and the other came through a room that was equipped for art and hobbies. It was just incredible. There was a huge work station in the middle, a potter's wheel and kiln to one side, and walls of organizational cubbies and shelves for every manner of supplies.
* Hard wood floors have rough/non-shine surfaces.
The Good, The Bad, and The Ugly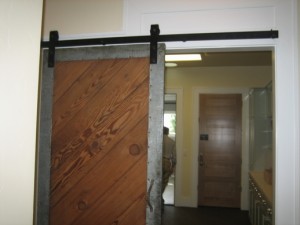 * Two houses have Kitchens off of kitchens. This is in addition to having walk-in pantries. These kitchens have the ability to handle some serious cooking, baking, and entertaining. Just amazing.
* Barn wood is everywhere: on walls, on counter tops (yes, on counter tops), on doors, just everywhere. Nearly every house has what I call a sliding barn door. It is a door hung on a rail that slides along the wall. Made of heavy wood with heavy steel hardware, I am just not sure what to think of this trend. It is interesting to look at, and even functional in a few situations, but mostly I think it's a fad. Five years from now these heavy doors will be screaming "This house was built in 2013!"
* These houses are all built by the areas leading builders. They are gorgeous and stylized. But even in this circumstance there are a couple of homes that fall flat. The colors seem off with dark cabinets, the tile choice seems average, they are nice homes, but just not in the running with the quality of the better homes on the tour.
My favorite idea? The recycling shoot that is in the pantry of one house. Open a little door and drop your recycling down a shoot that ends in the rolling recycling cart in the garage. How brilliant is that?
The Street of Dreams is great fun and this year's tour does not disappoint. How often do you get inside of such spectacular real estate? Now is your chance. I highly encourage you to attend.
Dianne