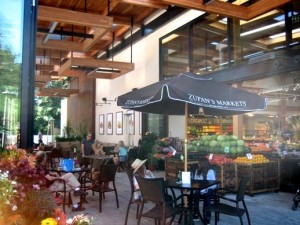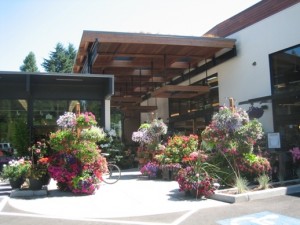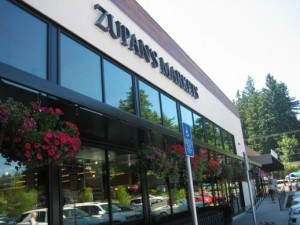 Lake Grove Shopping Center has morphed into Lake Grove Village. Located on the West side of town, this shopping center used to be home to Wizer's Market and a small strip mall of shops. After being closed for renovation for about a year, it has re-opened with new stores and restaurants.
The main store is Zupan's. I gotta say, it's pretty amazing. We have lots of nice markets in LO: 2 Albertson's, 2 Safeway's, Lamb's Thriftway, Whole Foods and New Seasons. But this Zupan's makes all of the others seem rather low-brow. I'd describe it as being mostly a huge deli with gorgeous produce, meets, and beverages. It is an ideal place to purchase take-out on those nights you don't feel like cooking. The most stunning department is the flower department, which is so large that it occupies an outdoor patio as well as it's own storefront. The final top off is a out door lounge with a large sofa, big chairs, and tables for dining. It is covered and has heat lamps, so except fo the deep of winter, it will be enjoyable pretty much year around.
Seriously, have you ever seen a market that has a sofa?
Two other tenants in the new "Village" are La Provence and Jefe. La Provence is a great French bakery/bistro that used to be located North of this location. Jefe is up-scale Mexican: very fresh and very homemade. Both have outdoor seating that is covered.
It is really a nice addition to the commercial district in Lake Grove and I highly recommend that you check it out, if you haven't done so already.
Dianne