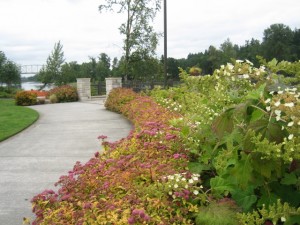 I think the most common question I am asked is "How's business?", which I think really means "What's the market doing?"  In my circle of friends, homeownership is the norm.  And in today's economy, everyone is hoping that their home is holding it's value.  For my clients, they are wanting me to give them insight into the buying/selling climate.  So staying on top of trends is pretty critical.  Today I am going to break down the Lake Oswego market and give you some specifics.
First, some good news:  Lake Oswego, according to the latest market action report from the RMLS, has done the second best job of holding value in the metro area comparing May of  '09 to May of '10.  Values are down in Lake Oswego, year over year, 7.8%.  The only part of the metro area that did better was North Portland with a loss of 6.3%.  The worst faring area was Yamhill County, which is down 13%.  Wow, did I really just call that good news?  We are down 7.8%!  Perhaps the better way to see it is that this is less bad news than it could have been.
The average sales price in area 147, which is Lake Oswego and West Linn combined, is $443,500.  The total days on the market is averaging 153 days.
I think it is important to do this analysis by price range.  Watching our weekly market action reports, it is pretty obvious that the houses priced in the less expensive range, such as $600,000 or less, are selling much more actively than the houses in the higher prices.  Here is a breakdown by price:
Price
Currently for Sale
Sold in Last 6 Months
# Per Month
Length of Inventory
$1,000,000 +
105
15
3
42 months
$900,000-$1,000,000
19
4
1
28 months
$800,000-$900,000
50
6
1
50 months
$700,000-$800,000
42
12
2
21 months
$600,000-$700,000
53
21
4
15 months
$500,000-$600,000
74
35
6
12 months
$400,000-$500,000
79
43
7
11 months
$300,000-$400,000
60
60
10
6 months
$200,000-$300,000
29
36
6
4 months
$100,000-$200,000
3
2
0
9 months
At a glance, the idea is that the lower the length of inventory, the stronger that part of the market is. And that makes it easy to see that the lower the price on the house, the stronger the market. There are also two surprising quirks. Notice that the market inventory is actually worse in the $800,000-$900,000 price range than it is in the houses priced at $1,000,0000+. Why? I am thinking that part of the market is competing with the houses that are at $1,000,000 plus and that when buyers get up that high in price, it is still easy to justify pushing the purchase up just a bit more to get what they really want. In other words, there still is not enough of a value difference at $800,000 vs $1,000,000. However, that idea is just my speculation. I also think at $800,000 you are seeing a lot of older homes. They do have a hard time competing against the newer homes, which there are lots of, that have the soaring ceilings and palatial kitchens and baths. Second, the houses priced under $200,000 just aren't selling fast either. I am quite certain that this is because at that price the house is pretty much a tear down and in such rough shape that the value is in the land. That means the buyer is going to be a builder and the builders are still sitting on so much inventory that they aren't buying up the land.
I also have to say that the market is very balanced between buyers and sellers in the homes valued $300,000-$400,000 and even up into $400,000-$500,000. This part of the market is moving well with homes coming onto the market and selling respectably within reasonable periods of time. If you are buying in this part of the market, and the house is in nice condition, be aware of values. If it's priced right, it's going to sell and your buying power is not as strong as it would be in the higher price ranges.
And for those of you in the upper pricing, you are still in a very strong buyer's market. Sellers are still competing with way too many other houses. You should be able to negotiate hard on price and terms.
Affordable Houses: LO vs Sellwood
I periodically like to compare affordable houses in Lake Oswego to the same houses in Sellwood, a neighborhood I used to live in not too far away in SE Portland. I like to do this because I remain convinced that Lake Oswego is often overlooked by buyers who are seeking affordable housing. This is because of LO's reputation as a wealthy community. Time and again I have been able to prove that there are more homes to choose from in LO than in Sellwood that are affordable. Today is no different. Affordable, by my definition, are homes price below $350,000.
As of today, there are currently 61 homes for sale in Lake Oswego priced below $350,000. The least expensive is a 3 bedrooms, 1.5 bath house with 1000 square feet and a single car garage that was built in 1957. It is actually in pretty nice condition,although close to I-5, and it is priced at $189,000. In Sellwood there are 19 houses priced under $350,000. The least expensive is a 2 bedroom, 1 bath house with a single car garage that was built in 1920. It has 838 square feet + 810 square feet in an unfinished basement. It's priced at $234,500.
I think the most burning question today is what is going to happen to the market now that the tax credit is over. I do think that there was a huge boost in the market by people trying to get into escrow by the end of April. I also know that May was slow for me, as far as new business. However, June has got my phone ringing and I am very busy. So my personal observation is that our normal spring/summer upswing is happening. Time will tell.
Yours, Dianne