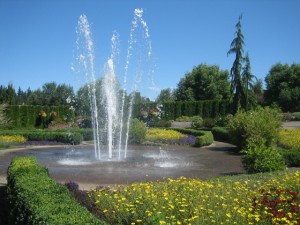 Oregon is famous for its rain. From November to early June, that is a big part of living in the Pacific Northwest. So I think of late March and early April in much the same way that the modern office worker thinks of Wednesday. This is the "hump" time: rather like Wednesday in the middle of the week. We are half way through our rainy season and looking ahead to the onset of warm and sunny days.
Last summer I took a trip to the Oregon Garden with the specific idea to share it with readers of the blotter. But rather than post it in July, when everywhere you looked was sunshine and gorgeous, lush foliage, I decided to save it for getting us all over the hump in the rainy season. So here you have it. We are now getting over the hump an looking ahead to sunny weather.
The Oregon Garden
The Oregon Garden has a special place in my heart for a couple of reasons. My sister-in-law's father, Bill Gerber (former mayor of Lake Oswego), was one of the founders of the garden. And my Mom, back in her active days as a Realtor, worked with Bill Gerber to find the land to create the garden. I also have a huge fondness for the Butchart Gardens in Victoria, B.C. as my husband and I visited them on our honeymoon in 1981. The Oregon Garden was founded by the Oregon Association of Nurserymen, in partnership with the City of Silverton, in 1995. The location of the garden was chosen for its gently rolling terrain, which provides variety and is easy to walk, and the abundant availability of water. The City of Silverton uses the garden to recycle its treated wastewater. This means that there is a constant source of water to serve the garden as well as the fountains and ponds.
To get to the garden, it is an easy drive from several exits off of Interstate 5. The route is well marked with signs near Woodburn and just North of Salem. It is about a 40 minute drive Southeast of Portland. When I go, driving from Lake Oswego, I go South on Stafford Road and take the back-country roads over the Willamette River at the Canby Ferry. I like the back roads because I like to drive and I like to stop at produce stands to buy fruits and vegetables direct from the farmers. It's a gorgeous way to spend an afternoon.
The Garden is open October to April from 10am to 4pm, and May to September from 9am to 6pm. Admission is $10 for Adults, $9 for Seniors (60 and older), $8 for Students (8-17 years old), and children (7 and younger) are free. The price of admission includes use of the Tram which runs throughout the Garden for anyone who needs assistance getting around or if you're just ready to sit and relax.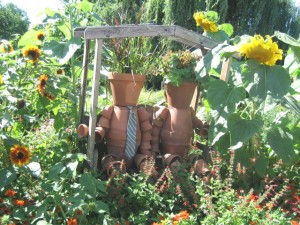 Along with the Garden having a cafe and large meeting room, there is a luxury hotel, The Oregon Garden Resort, which has a spa, restaurant, lounge, and meeting facilities for business conferences and wedding receptions.
The Garden itself is divided into a variety of landscapes to showcase the abundant variety of plants, trees and flowers that thrive in Oregon. There is a whimsical Children's Garden, a Rose Garden, a Conifer Garden, a Water Garden, a Green Roof, and a Home Demonstration Garden, to name just a few. I am really big on flowers. Give me flowers, flowers, everywhere and I am a happy lady. So I was caught by surprise when I found that I especially enjoyed the Conifer Garden. I was with a friend who has several dogs. She was looking for landscape ideas for trees that wouldn't hurt if her little blind dog ran into it. So we were touching and smelling and really participating in the Conifer Garden. I was amazed.
The other thing I really recommend is visiting The Gorden House, which is located at The Oregon Garden. The Gordon House was designed by Frank Lloyd Wright in 1957. It is the only Frank Lloyd Wright house in Oregon, and the only one open to the public in the Pacific Northwest. Fans of architecture will understand that seeing a Frank Lloyd Wright house is a privilege. To get to do this on the same day that you visit a gorgeous garden is just icing on the cake.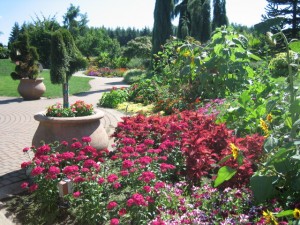 The Garden hosts events year around. Some coming up in the near future are the Easter Egg Hunt on April 3rd (egg hunts for ages 0-3, 4-6, and 7-10; held at 11am, noon, and 1pm), Brewfest on April 23rd and 24th, a Motorcycle Show on May 22nd (I'll be there with my husband, I can promise you), and a plant sale on June 12th.
So don't give up. Don't throw in the towel, although you may need to wring it out. The nice weather is just around the corner. And also remember that it is the long and rainy spring that makes Oregon so lush when the sun comes out in June. See you at the Garden!
Dianne