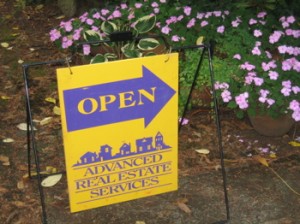 The open house, a long standing tradition for marketing and selling a home, or a total waste of time?  It's actually a pretty controversial subject among Realtors.  Some believe in them and others refuse to do them.  I fall into the first category.  I hold open a house pretty much every Sunday and some Sundays I will do a couple of open houses.  I make a commitment to people who list their homes with me that I will promise one advertised open per month, at a minimum.  I will do more if my time allows.  This commitment keeps me pretty busy.  It means that I do LOTS of open houses.  And that is probably why I think that they work.
I would estimate that I sell one house per year that is directly a result of my open house efforts.  In June I had an offer written by another Realtor after her clients found my listing at an open house.  That open house was how I sold my listing.  Last Sunday I had an open house and I am now in very strong verbal discussions with another Realtor, again because his buyer came through my open.
Please note that I said that I do "Advertised" opens.  Sure, I like meeting the neighbors, but I want people coming through who already know the price, how many bedrooms there are, and are actually buyers who are wanting a new home.  I think advertising is one reason that my opens are successful.  While I used to do a newspaper ad with each open, I have shifted my marketing to the Internet.  I advertise my open houses on Craigslist, on the RMLS, and when the house is in Lake Oswego, on the propertyblotter.
Let' s put it this way.  If I didn't believe in open houses, I'd never do them, right? And then it is a no brainer that I could honestly say that they don't work.  How can something work that is never tried?
I also feel that in this economy, Realtors have to go back to basics.  In a hot market, where homes are selling quickly, homes will sell with just some simple Internet exposure in the RMLS.  In a slow market that is not enough.  There are so many houses for sale, and so few buyers, that just being a part of the inventory is not enough.  A Realtor has to use every possible tool to get exposure for a proprety.  I owe it to my clients to work on their behalf and use all of the tools in my arsenal.  And, as I have stated above, I know from experience that open houses work.
Watch for my signs.  I'll see you on Sunday!
Dianne