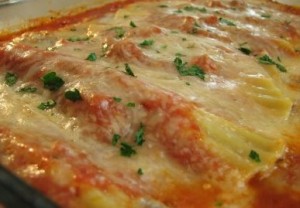 Ok, so, it's the holidays, and the Realtors are all running around serving their clients with Christmas trees on their car roofs… well, at least I am! Or was, earlier today. I visited another real estate office and noticed that I'm not the only one juggling real estate business and "extra" holiday activities and errands… and frankly we all are right now. So, I was thinking- What am I going to write about in the Property Blotter this time?  I've got to take care of my clients and go shopping for Manicotti ingredients, champagne, Martinelli's and all manner of other Christmas Party necessities. What will I write about?   Food comes to mind of course.
I confess, I have been overextended into giving away some of my cooking secrets, and other hopefully interesting tidbits for the sake of expediency! What has the world come to? Anyway, here are a few little things I usually do not pass on to people… but for YOU??? Our Property Blotter reader? Here you go:
Manicotti:  I make a killer Manicotti. It's a well-known fact if I do say so myself, which is due to my dear Grandmother's guidance and recipe… and which I am NOT giving you (she'd come after me from the afterlife!). So, you'll have to come up with your own sauce and blend of cheeses, but I WILL tell you the biggest secret of all: ~How To Stuff Manicotti Noodles~ Basically, you stuff them while they're hard. Using a pastry tube is something I incorporated last year and it worked much better than the "old country" method my Grandmother and I used, which was little by little with teaspoons. You stuff the noodles, line them up in a buttered pan till its filled with one layer, and pour your sauce over them all. Here comes the secret part: You then pour hot water… about 3/4 cup of it, around the edges of the pan, cover tightly with foil and bake according to your directions. The water steams the noodles, and your sauce retains the consistency you intended. Voila! (oops… not an Italian expression)
Hungarian Mushroom Soup:  There is a restaurant in Portland called Old Wives Tales that is famous for this soup. I used to drive all the way there and take home large cartons of it. "Anything else, Miss?" "No. Just the soup please." One day I experimented till I came up with nearly the same flavor. Sophisticated cooks will balk at this part, but I use 2 large cans of Cream of Mushroom Soup from the store. I then add several cloves of garlic (at least 5) chopped, at least a cube of butter, a 16 oz. carton of sour cream, 3 cartons of fresh sliced mushrooms from the produce section, one can of milk, and several tablespoons of paprika. Ta da! Secret, easy Hungarian Mushroom Soup.
Brussel Sprouts: For this I am going to give you a link to a great local cooking blog. A lot of people like to serve brussel sprouts during the holidays, and I believe there is some kind of superstition having to do with good luck when you eat them on New Year's Eve. Anyway, this recipe is so good I can hardly describe it. The way you cook them is easy, involves lots of heavy cream and freshly squeezed lemon juice at the end. This method takes some of the "bite" our of them, and ends up sending you back for more till there are no leftovers. It's that good (if you like brussel sprouts that is… and if you don't, I'd suggest trying them this way to see if you change your mind). Here's the link: Creamy Braised Brussel Sprouts
Ok, Addendum- Check.  Closing Coordination- Check. Research- Check. Repair schedule- Check. Update Clients- Check. Documents Emailed- Check… Off to decorate the tree!
Happy Holiday Cooking to each of you.
Very Best,
Linda