For some time now I've been wanting to highlight some local restaurants and places that I enjoy frequenting here in Lake Oswego.  Today I want to let you know about 3 wonderful restaurants on the Lake Grove side of town.  All 3 are practically institutions in the area, having been in business for many years.  They are also located in a cluster along the same stretch of Boones Ferry Rd, the main road through the West end of town.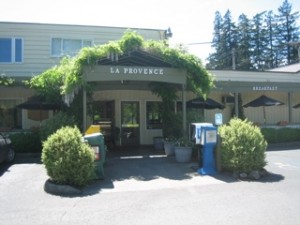 La Provence is the youngster in the group.  The founders of the restaurant, Pascal, Didier, and Alain came from France in 1996 wanting to share their passion for the French Patisserie, which is a bakery that specializes in pastries and sweets.  Don't be fooled by the outstanding selection of breads, tortes, cakes and croissants that are showcased as you walk-in.  This restaurant offers first class food well beyond the temptations of sweets.  When the restaurant first opened it specialized in breakfast and lunch.  My favorite breakfast choice has long been the smoked-salmon hash.  Served over crispy hash browns, the smoked salmon is topped by a poached egg and creamy dill sauce.  The homemade bread makes delicious toast, and the coffee is outstanding.  For lunch I recommend the French onion soup.  It is the best I have ever had.  And in the last year or so the restaurant has begun to stay open for dinner service.  I recently had a wonderful dinner there at a time when they were offering live music.  I consider the pricing to be affordable and the food highly reliable.  The atmosphere is relaxed and sunny with bright splashes of color from the art work and provencial-style table cloths.  Located at 15964 Boones Ferry Rd, you can find menus and more information at their website, www.provence-portland.com/
Next door to La Provence is Gubanc's.  Gubanc's and I have something in common.  We both came to Lake Oswego in 1976.  I guess you could say that we kind of grew up together.  Owned by Tony and Anne Gubanc, this restaurant is a neighborhood classic.  The atmosphere is classy while being comfortable.  Not too expensive, you'll find the food to be Northwest with an interesting flair.  The restaurant is most famous for its soups.  They have 80 different varieties that were personally created for their menu.  While the traditionals like clam chowder are available, you will also often find unusual selections like Chicken and Pear or Santa Fe Chicken with White Bean.  Yum.  A great deal at lunch is the Soup Board.  For $7.50 you get a generous bowl of homemade soup with a side board of bread, cheese, and fruit.  Dinner options include South Western Pork Wraps, Chicken and Dumplings, and Halibut Provencial.  For dessert they are well known for their Fresh Fruit Cobbler.  You'll find it busy every night of the week.  There is a full bar and I think there are quite a few regulars who eat dinner here several nights a week.  To continue to fill the dining room night-after-night for over 30 years, you know they must be doing something right.  Located at 16008 Boones Ferry Rd.  For a copy of the menu and more information, visit Gubanc's website at www.gubancspub.com.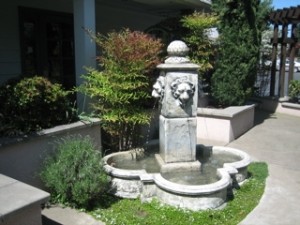 Finally, I want to brag about Riccardo's.  This is my favorite "special occasion" restaurant in Lake Oswego.  Not that you would only want to go there on special occasions, like an anniversary or a birthday.  I have gone there with friends for a casual lunch or dinner many times.  It's just that I've also celebrated many birthdays and anniversaries there.  In my mind, it is a special place that provides just the right atmosphere for a special night out.  Opened in 1980 by Riccardo and Georgette Spaccarelli, it is very fine Italian dining at it's best.  The Spaccarellis are known for their annual trips to Italy where they visit wine producers and make selections to offer with their food.  The entire meal is extremely authentic.   It's also mouth watering and complex.  My favorite item on the menu is the Penna Strozzapreti.  Penna pasta with a sauce of cremini mushrooms, black olives, garlic, and sun-dried tomatoes in a light cream sauce that is then dusted with parmigiano reggiano.  That is comfort food to me and a real taste treat.  There are two dining rooms.  The inside room seats 55 and is very nice.   But my favorite, and where I always make it a point to dine, is the outside patio.  It seats 75 and is surrounded by high walls that in the summer are topped with flowers.  There are terra cotta tiled floors and several fountains.  The perimeter tables do have a roof over them and in cooler weather they have numerous heaters to keep you warm.  No, I don't think you'd be able to dine out there in January.  But for most of the year you can.  It is not only comfortable, you will feel like you've gone to Italy.  Riccardo's is just across the street from Gubanc's and La Provence at 16035 Boones Ferry Rd.  You can find their menu and more information at their website, www.riccardoslo.com
There are other great restaurants in LO.  I'll work on giving other recommendations in the future, but this is a good starting point for a new resident in the area.  And just like the long-time residents, you'll go back again and again.