Lake Oswego is known far & wide for its family-friendly environment and involved citizenry. The schools here are excellent, there are clubs and outlets for all kinds of interests, and of course a myriad of programs for kids of all ages.  I wanted to take a moment to highlight a terrific resource called the "McKenzie Lounge for Teens".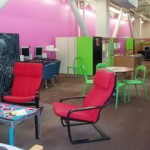 The McKenzie Lounge is located in the West End Building at 4101 Kruse Way.  The Youth Action Council, YAC, and other generous donors have made sure that it is packed with the kinds of things teens find inviting, including: a pool table, foosball table, ping pong table, TV's, couches, comfy chairs, bean bag chairs, video games, refreshments and plenty more.  It was designed specifically for teens by Janet Bocci, as well as YAC and parks and recreation staff members.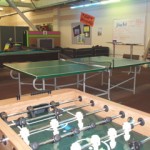 According to the city's website, drop-in hours are 6-9PM Monday thru Friday for all teens ages 12-18 who want to come and hang out with friends and/or meet new ones. After school it is open to Jr. High teens from 3-6PM for the After School Program. Since its inception in the Fall of 2007, it has hosted over 3,000 visitors, not including special events like Java Jam, LakeFest and others (figures as of November 2008).  The Lounge is also the magnet meeting place for all teen groups such as YAC, the JavaJam Planning Committee, The After School Activity Program (ASAP) and clubs from both high schools including Ping Pong Club and Reflections.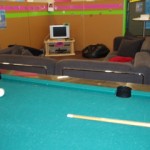 The best thing about the McKenzie Lounge however, is that teens actually report enjoying it! For instance, during the election, the Lounge hosted a series of "Debate '08" nights featuring the Presidential and Vice Presidential Debates, opportunities for lively discussion, as well as food and extra credits from social studies teachers. The debate series attendance reportedly totaled 115 students, drop-in attendance is reportedly growing by 25% every three months, and teens have been quoted as saying that the McKenzie Lounge ranks right up there with Taco Bell and the video game store as cool hang-out choices.
With Spring Break upon us, upcoming activities include March Madness games and March's Java Jam featuring two musical guests and YAC's "Project Runway" contest.
In addition to the ongoing happenings at McKenzie Lounge, Lake Oswego offers more fun teen activities this Spring Break including: Ski and Snowboard Camp at Timberline Ski Resort, Glow-In-The-Dark-Bowling, Rock Climbing and a Portland Lumberjacks field trip. Check out the city's website (link above) for more information!