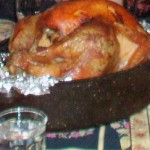 Our very best Thanksgiving wishes to you and your loved ones this holiday weekend!
Should you be in the mood to browse some available Lake Oswego properties this Sunday (perhaps with those relatives you've been wanting to move closer to you so badly!) there are a whopping 3 that will be held open according to RMLS:
1307 Cedar St., $459,900, 4 bedrooms, 3 baths, Open 1-4
100 Garibaldi St., $1,299,000, 5 bedrooms, 3 baths + 2 1/2 baths, Open 1-4
16359 Chapin Way., $1,439,000, 4 bedrooms, 3 baths + 1/2 bath, Open 1-4
***Those of you new to the Property Blotter, please scroll down for the most recent market activity, and enjoy perusing our archived posts and features!