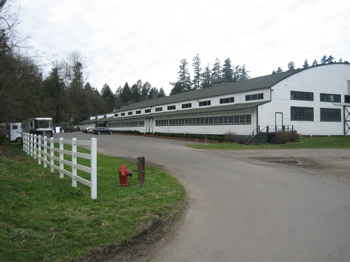 Lake Oswego is home to a very unique and beautiful facility, Lake Oswego Hunt.  The Lake Oswego Hunt is an equestrian training program and a riding school for children and adults of all ages.  Unlike many facilities that focus on one discipline, Lake Oswego Hunt works with Combined Training, Dressage, and Hunter/Jumper.  So if you have a love for horses, and you want to have access to horses in your life, there is a way to do that here in Lake Oswego.
While I love the beauty of horses, and have ridden horses on a couple of occassions, what I love about Lake Oswego Hunt is the gorgeous arena and barn.  As you drive along Iron Mountain Blvd. you can not help but notice the beautiful white barn and fences tucked into 19 acres of meadow at the base of Iron Mountain.  It is just extremely picturesque.
Built in 1936, the indoor arena is the largest and oldest bow-truss structure West of the Mississippi.  It is 90′ x 220′.  When you look up at the roof from inside you can not help but be struck by the barrel vaulting.  There are cathedrals in Europe with similar ceilings.  This one just happens to be made out of wood.  In 1987 this unique structure was recognized with a listing on the National Registry of Historic Places.  There is currently a very active effort being made to preserve and to restore the building.  A Historic Preservation Committee has been formed that is hard at work to keep this facility in good repair.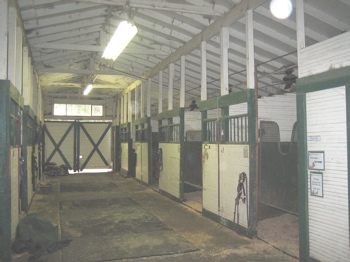 When I stopped in to visit the Lake Oswego Hunt, besides the beautiful arena and barn, I was also struck by the warmth and friendliness of the people that I met.  Everyone was gracious and welcoming.  I was very taken with the attitude that this is a place that wants to be a part of our community.  They made it very clear that they love to have people come in and that they are happy to give you a tour.  Along with a calendar of events that includes horse shows and parties, there are occassional open houses that invite the general public to come and see what is happening at Lake Oswego Hunt.  The next open house is scheduled for February 7th, from 9am to 5pm.
There are a couple of ways to be a part of Lake Oswego Hunt.  You can join as a full member and have the ability to board your horse and have full access to the club room and all of the facility.  You can also join on a social membership to enjoy the horse shows and be a part of the social programs that include brunches and parties.  Finally, the riding school is open to the public.
I have a love for old buildings and architecture.  I think that Lake Oswego Hunt is a facility that is deserving of our support.  If you've never visited, stop by.  I think you'll be impressed by what you see.  If you'd like more information, you can visit the Lake Oswego Hunt website by clicking here.