Lake Oswego's historic Iron Furnace in George Rogers Park is set for a face lift, to be completed in June 2009.
This local treasure is listed on the National Register of Historic Places, and is in need of some tender loving care. The exterior of the 44-foot high furnace is in decent shape, but the interior stonework is severely deteriorated.
Having been abandoned in 1885, the elements have taken their toll, and there is a danger of falling debris, therefore the furnace is fenced off and considered unsafe in its current condition. The restoration will replace grout, chink stones, bricks and basalt stones according to the City of Lake Oswego. The city anticipates that this work, plus a roof for protection, and compliance with current seismic standards will enable it to conduct regular pre-arranged group tours through the furnace structure.
The stone furnace was built by the Oregon Iron Company and began operating in August of 1867. With Oswego's iron deposits, the company was the first manufacturer of iron on the West Coast, and the Oswego iron industry was reportedly the biggest manufacturing enterprise in Oregon during the nineteenth century. This amazing piece of Oregon history is said to be the only surviving iron furnace west of the Rocky Mountains.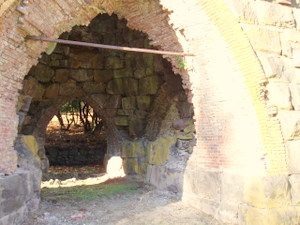 The Lake Oswego City Council has awarded the $830,785 contract, to Pioneer Waterproofing, Inc. Requiring specialized skills, Pioneer Waterproofing fits the bill and has met the standard for brick and masonry restoration in conformance with the Secretary of the Interior's Standards for the Treatment of Historic Properties. Pioneer Waterproofing has also completed impressive restoration projects which include Vista House, Crater Lake Lodge, Timberline Lodge, and the Portland Art Museum.