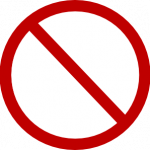 A while back Dianne wrote a post on the Realtors Code of Ethics.  I loved that post because I don't think most people are aware of all the standards to which Realtors are held.  It really is great to be in a profession where we are mandated to treat each other and the general public with respect. That mandate then becomes a part of our culture. I notice it in the conversations I have with other Realtors.  There definitely is a flavor of deliberate respect that is not always the experience for most of us in the day-to-day "non-real estate"  wider world of affairs.
I read something in the recent REALTOR magazine published by the Portland Metropolitan Association of Realtors (PMAR), and written by Jo Becker of the Fair Housing Council of Oregon on subject matter along the same lines that made me think you'd find it interesting. This is regarding words Realtors may and may not use in promoting properties, and the overall guidelines of the Fair Housing Act.
HUD is the federal regulatory body with the power to enforce the Fair Housing Act.  Generally speaking, the Fair Housing Act is in place to ensure that discrimination and something called "steering", among other things, do not inhibit peoples' right to live wherever the heck they want and are qualified to. It is also set up to ensure that the public receives information about housing that is fair and as free as possible of inaccurate and/or unduly influencing or discriminatory language.  "Steering" is essentially trying to influence buyers to live in, or not live in, certain areas based on something other than the buyers' own parameters for what they want in a new home & neighborhood.  Basically, a Realtor is to supply a buyer with options for potential homes based on the information a buyer supplies to the Realtor regarding their wants & needs.  A Realtor will often refer a buyer in the overall Portland area to this website:   www.PortlandMaps.com where the buyer can enter the address of any property and view all kinds of facts on a property including statistical, demographic and crime information. Buyers are ultimately choosing a home that fits their particular needs, and Realtors are there to assist with service, information and real estate expertise.
The Fair Housing Council of Oregon's website states plainly:
The Fair Housing Council of Oregon (FHCO) is a civil rights organization with a mission of eliminating housing discrimination through enforcement and education across Oregon and southwest Washington.

We promote equal access to housing by providing education, outreach, technical assistance, and enforcement opportunities specifically related to federal, state, and local fair housing laws. These laws protect against illegal housing discrimination based on "protected class status."

The federally protected classes are:
race, color, national origin, religion, sex, familial status and disability

There are additional state and local protected classes.
When a Realtor enters listing information into RMLS, it is scanned for potential "no no's" that are most always either unintentional or erroneous, i.e., as the article I mention elaborates- the RMLS program may highlight the word "white" for the Realtor's attention when it is only being used as a description for a picket fence etc.  A real human at RMLS who understands context always reviews these issues, according to the article. There is no "list" of unnacceptable words as many people believe.  It's all about intention, and about upholding our highest societal values… as well as the law.  Some terms can seem to be either benign or on the edge but for their context, for instance, the term "Walk-In Closet" is commonly understood to describe a well-known feature in many homes.  As long as the Realtor is not trying to imply a limit on access to someone who is not ambulatory this term is not a problem. "View Property" falls into the same category as long as no one is limiting access to the "view property" to sighted individuals only. The same goes for "Mother-In-Law Suite" and "Bachelor Apartment" according to the article. Where it can become trickier is with words like "near".  Often a house will be described as "Near shopping, transit" etc., which is OK.  What is not OK, due to implications that certain people may or may not be welcome in that neighborhood, are things like: "Near ABC Mosque" or "Close to the XYZ Church" or "Near the LMN Jewish Community Center".  It is also not considered proper to refer to specific schools due to the potential for using this technique to promote some schools over others for the same kinds of reasons. It is generally considered all right to refer to school districts as long as this is done consistently throughout a Realtor's listings.
The article refers to a few blatantly illegal and discriminatory statements that have evidently actually been published on a popular local online service. These are obviously examples of absolute "no no's" and you will not see these or anything like them on RMLS:
"No minorities",
"African Americans and Arabians tend to clash with me so that won't work out",
"Ladies, please rent from me",
"Requirements: Clean, Godly Christian Male",
"Will allow only single occupancy",
"No children",
"Christians only".
These are all clear violations of the Fair Housing Act.  Fair Housing Act laws apply in newspapers, flyers, yard signs, verbal statements, and online advertising among other instances & places.
For questions about Fair Housing Laws visit:   www.FHCO.org
or call:   503 223 8197   or   1-800 424 3247.