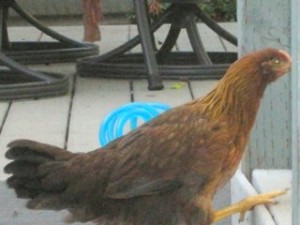 You'd have to be hiding under a rock somewhere not to have heard all the buzz about "chickens in the city".  I haven't witnessed such passionate discourse on anything other than elections, health insurance reform, or bank bailouts in quite a long time…on both sides of the issue. I do have to admit that chicken lovers seem to be most invested in the subject though,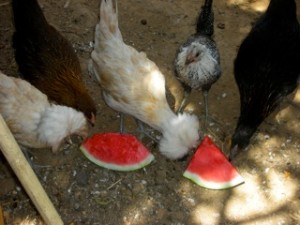 and therefore they are winning their battles all across the country.  Believe me, it's not pretty when people who want chickens are told they cannot have them on their own property. Here's an article from MSNBC in Sept '09 entitled  " In Portland, Ore., urban chickens rule the roost" . They even get into the fact that Portland's Mayor Sam Adams owns two hens (I didn't know that!).   Hmmm… Chickens in Portland on the national stage…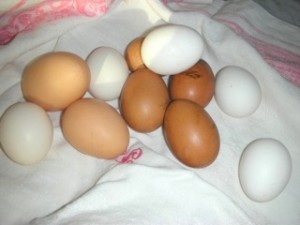 Chickens are said to make great pets, produce eggs, and eat table scraps like a dog but bark less. Actually they are said to make less noise (chickens don't bark, silly!). I have friends with chickens, and witness much Facebooking and Twittering about these feathery pets. Recipes are exchanged online, and of course the fact that the eggs used came from the family pet
always features prominently. My friend Pamela (who is a fabulous cook) feeds Adele, Fatima, Georgina, Hera and Irene fruit, vegetable, and bread leftovers.  (That's Hera at the top of the page.) Just as there are "victory gardens" springing up everywhere these days that fit in nicely with the welcome & spreading focus on organic foods, home-grown eggs are also food you can count on for your family in times both lean and luxurious.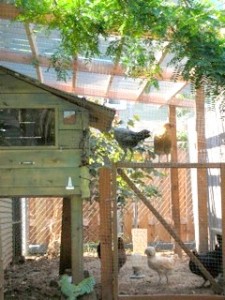 Chicken coops are appearing over backyard fences in every metropolitan area. Some of them are downright "designer". Now, whether cities allow chickens or not is another matter. Many do not. Portland does… Beaverton does not. Salem does not. Tigard and Gresham only allow them on unusually large lots (must be 100 feet from neighbors). Almost all prohibit roosters (eggs do not require a rooster…  unless you want baby chicks). According to The City Chicken, Lake Oswego does allow them, does not prohibit roosters, and does not place a limit on how many you may have. That said, roosters in particular may end up in violation of city noise ordinances, so Lake Oswego is not about to give up on quality of life for neighbors of chickens.  Here is a resource for basic info about whether or not they are allowed in your location: Chicken Laws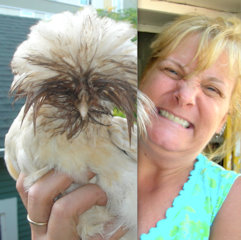 Remember, if you decide to take on the delightful adventure of keeping chickens at your home, they are pets, and do require care and attention. (These are "The Irene's" to the right… little Irene named after Pamela's best friend.)  Give some thought to care, feeding, lodging and protection. Cats are attracted to them, and one cat doing what is natural can end up breaking your heart.
Below, you'll find some links to sites with all kinds of information regarding: chickens, raising them in urban environments, organizing to change your city's ordinances, educating yourself on avian flu, general upkeep, and lots more:
Pistils Nursery (Country Living in the City)
Feel free to use this forum to discuss your own experiences of "chickens in the city".  We'd love to hear from you!  (Many thanks to my friend Pamela for the photos of her beauties!)