One of the great things about having a blog is that you get to share things that are of personal interest.  So this post is about one of my fond summertime memories, as well as a suggestion for yourself or your out-of-town guests who come to Lake Oswego.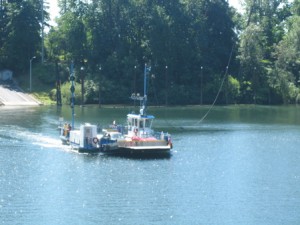 I have a very great fondness for the Oregon ferry system because of my grandfather.  As a child I spent vacations at his home in Salem.  He would load myself and my 3 big brothers into his car and take us out to ride the Wheatland Ferry on the Willamette river between Salem and Newberg.  Along the way we would see field after field of hops, corn, tomatoes, peaches and all manner of fresh produce.  We'd always be sure to make a stop at a road-side stand to load up on peaches.  Then we'd have them for breakfast with fresh cream and oatmeal the next morning.
When you live in Lake Oswego, you have easy access to your own working ferry:  the Canby ferry.  It's located just about a 15 minute drive South of Lake Oswego.  Take Stafford Road South past I205, turn left at Mountain Road, and that will take you straight to the ferry.  The ferry runs year-around, except for extreme weather.  It starts early in the morning at 6:45am and runs until 9:15 in the evening.  1-way cost for a car is $2.  It will take you from the Lake Oswego/West Linn side of the Willamette to the Canby side.  To make a similar journey via the surface roads would take about 20 minutes longer.  So as a means of transportation, it is actually pretty functional.  But it is also scenic and adds a very nice ambiance to what is otherwise a fairly mundane drive on the freeway.  On the Canby side you'll find all sorts of roadside stands for seasonal fresh produce, just like I enjoyed with my grandfather 40 or so years ago.
The ferry is one of several in the current ferry system.  The Canby ferry has been in service since 1914.  Two other ferries that are still in service are the Wheatland ferry near Salem and the Buena Vista ferry that is South of Independence.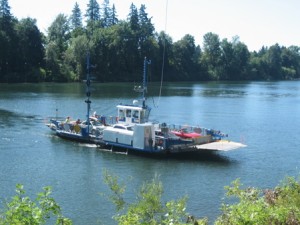 This subject is leading me to a little bit of Oregon history.  As you drive around the metro area you'll see quite a few roads that feature the word ferry in their name:  Taylor's Ferry Rd, Graham's Ferry Rd, Scholls Ferry Rd. And here in Lake Oswego, Boones Ferry Rd is one of the major streets in town.   These roads were conveniently named to lead travelers back in the days before we had bridges across the Willamette River to the many ferries that aided with these crossings.  Boones Ferry Road led to the Boones Ferry, which was located where what is now Boones Bridge in Wilsonville (actually the current location of the Boones Bridge across I-5).  Boones Ferry was operated by Alphonso Boone, a grandson of Daniel Boone.
Oregon isn't necessarily well known for its ferry system the way that Seattle is.  But we have one.  I think it's a hidden treasure and I love living in Lake Oswego where I have easy access to the summer-time pleasure of taking the ferry to buy fresh peaches on the Canby side of the river.  It's a great personal past time, but I also enjoy sharing it with friends who are visiting the area.  There are also quite a few great things to do and enjoy as you head South down the valley.  I'll touch onto those in a future posting.
P.S.  Fresh peaches and cream on oatmeal are THE BEST!