The City of Lake Oswego has developed quite a reputation for its amazing displays of flowers. Flowers are everywhere: hanging in baskets, in the meridians of roads, in the round abouts, and along pathways and around intersections. Everywhere you turn in the summer months is an absolute feast of color.
Perhaps the best known displays are in the many hanging baskets. This year there are 266 flower baskets. They are hung rather high up on the light posts of most major streets. They are large and lush when they are first hung in the spring and over the course of the summer will cascade down about 4 to 6 feet. These baskets are privately funded through donations from businesses and individuals. The flower basket program is sponsored by the Chamber of Commerce and a silhouette of a basket has long been the Chamber's logo.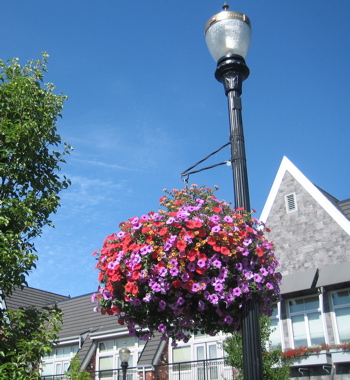 I have to give credit for a large part of the City's strong interest in flowers to one of the City's former mayors, Bill Gerber. Bill loved this City. He owned a nursery in Lake Grove called Gerber Gardens. He toured the world looking at gorgeous gardens and brought his love of gardens home to Lake Oswego. It was through Bill's efforts that Lake Oswego entered into, and won, the America in Bloom competition.
In September of 2003, Lake Oswego entered the America in Bloom competition and actually won two prizes. The first was for the finest flower displays for cities with a population of 25,000-50,000. The second was the highest honor for flower displays beating out cities of all sizes including Boston and Indianapolis. The purpose of the America in Bloom competition is to foster civic pride, environmental responsibility, and beautification. Once a city wins the award, they are no longer able to compete in future years, but instead become a mentor to other cities hoping to accomplish similar results. For more details visit the America in Bloom website.
Portland is famous for it's roses, but Lake Oswego is famous for its flowers too. The climate is ideal for lush displays that start with the spring bulbs in March and last through the fall colors in October. It makes the entire community shine.